Aaaaah, I'm being attacked by military jackets!!! EVERYWHERE!!! Thanks a lot Balmain, you trendsetter, you! Although I am a 'true fashionista' (heh, heh) and hate the thought of following trends b/c I'm sooo uber-fashionably, uniquely, creative, and independently stylish (riiiight)...I must admit I am loooovin' this military jacket thing going on EVERYWHERE!!!
I was in this boutique in LA the other day called Fame and there was this gooooorgeous, flyyer than falcons, bombness-infested military inspired jacket! It was fire engine red with luscious gold detailing, and hit the hipbone with perfection! Sadly, I failed to purchase it (recession, hello, haha) and even sadderly, failed to take a picture of it, grrr... But mark my words when I say it was BANGIN' to the umpteenth power! It better be there when I return or I'm getting a real military jacket, a real military rifle, and hunting down the evil shopper who dared to purchase the jacket that rests safely in the lay-away section...of my mind.
We're not surprised that Rihanna rocked the trend amaziiiingly, right? And although I've heard that she's recieving some heat for her MJ's hey day inspired hairdo...it completes her look beautifully and she pulls it off sooo hard! Memo to those living under a rock: Rihanna is the shyzz-nizz, indeed!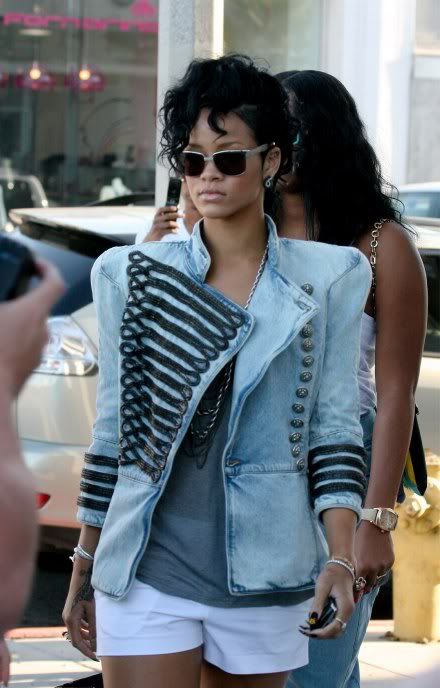 pc: denimology
p.s: ...and while I looove Rihanna, I must take this oppurtunity to vent that I absolutely despise (x1000) when people wear long sleeves with shorts...grr...you're either hot or you're cold, hot or cold dammit, you can't be both! That goes for pairing heavy knits with sandals too...yeesh...I feel a 'fashion dont's' post coming along...