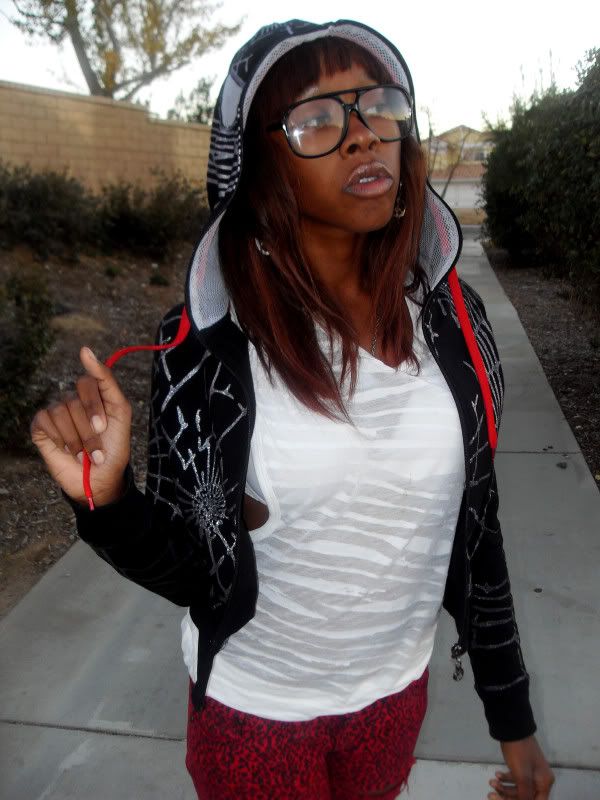 In these photos I just happen to be wearing a mixture of some of my most favorite pieces; I cannot help but laugh because while many girls put their platform Diors on a pedestal, I put on my worn in, worn out, yet comfy and consistently convenient, favorite pair of Chuck Taylors.

My red cheetah print pants that I personally distressed are another wardrobe favorite because aside from loving cheetah print, just the combination of animal print and the color red add a fun sense of intrigue, drama, and just enough sex appeal. I decided to add this sheer, zebra print top to the mix because I decided that mixing animal prints is pretty fun and I like the way a white top looks with these pants because wearing a black one would be way too expected and run of the mill.

This spiderman esque hoodie is a definite favorite because I love Spiderman with all my heart and I adore the boyish yet cute feel of this piece. When I first got it, it sparkled like diamonds and the glitter from it left my trace where ever I went..it was like my version of spider venom and it was sooo cool.

Lastly, my geek chic spectacles that I got in San Francisco this summer were a great ending to this magically mixed look because it was a small tribute to Peter Parker and it completely fit with the grunge direction this look ended up taking, hmm, why do so many of my outfits take this direction?

(specs- buffalo exchange, hoodie- lot29, top- f21, pants- rave, shoes- hi top chuck taylors)