The I Love Leggings List
A small guide to my favorite piece of lower-body-part clothing.
I'm just head-over-heels in love with the complex statement such a simple piece of clothing can make, often times, the right pair of leggings can serve as the center of an outfit.
They come in a billi diff. designs, fabrics, and styles, I adore the versatility that leggings allow.

Perfect for curling up in bed with dairy free hot chocolate, watching Sex and the City, Friends, The Office, or Audrey Hepburn DVDs.

Great solution when you can't find anything to wear; its as simple as throwing on an over sized tee or button up.

Perfection in clothing form when you've had a long day, long last night or have an early class in the morning.

In most cases, causes one to appear slimmer and flatters most figures.

Great for running errands or running on a treadmill.

Depending on the style, leggings can fit any look, be it slashed or bleached grunge, sex kitten liquid leggings, or even floral ones that unleash the pretty preppiness.

They're usually inexpensive.

Because of the extreme versatility leggings allow, you can wear the same pair over and over with different combinations creating a different look each time.

They layer wonderfully under jeans, pants and the like, absolute amazingness for this time of year.
I've recently taken a liking to pairing leggings with tops that don't necessarily cover my tush, which to many is a huge no-no, but in truth, as long as the top falls on the casual or loose fitting side of the top spectrum, it works great!
I remember seeing these leggings for 16.00 at F21 and me, being the pure definition of recessionista/frugal fashionista even before the economy took a nosedive, decided that almost 20.00 for thin cotton was just a bit too steep. For months, every time I glanced at them I silently commanded the price to drop down to around a reasonable 10.00; and lo and behold- I bagged the loves in leg wear form for 6 flippin bucks, yeees!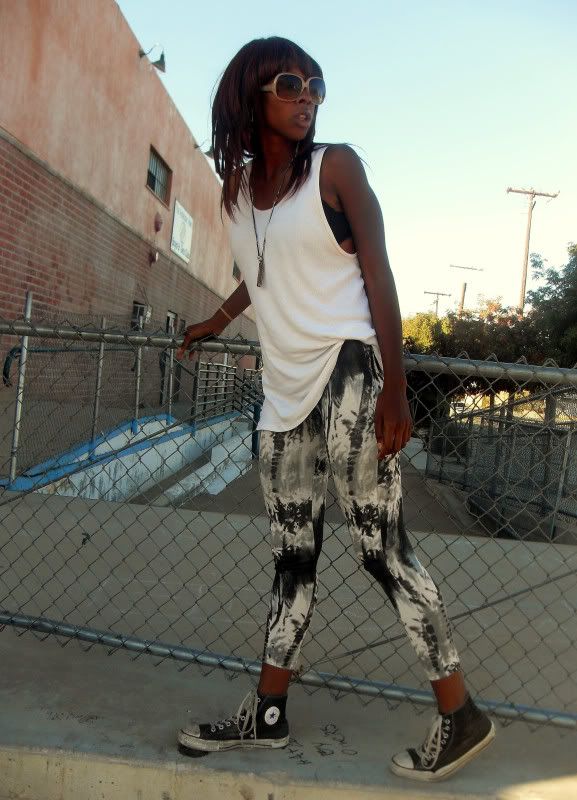 "Omygosh Dannie, how did your hair get so long all of a sudden?!", my sincerely clueless friend asked.
Of course I said it was magic, but since I get more questions about my hair than I do my clothes, I cross my heart to do a post on the subject in the near future, just know that my hair serves just as much a part of my personal style as my clothes, which is why I must change it so often, otherwise I'll go crazy..which uh..totally hasn't happened yet, heh heh..
(dad's hanes under tee, current faaave f21 leggings, faaave chuck taylors)