Everyone said the same thing to me when I bought this amazing, over sized, Hello Kitty (not Minnie Mouse!) bow as when I purchased my tutu; "Dannie, where/how are you going to wear that?!" Anyway I want of course! I absolutely adore over sized, bold, and outrageous pieces; it's sooo much more fun and freeing wearing a big bow and unapologetically geeky glasses than a dainty necklace and sensible earrings could ever be! Dressing a little more eccentric than usual serves as an instant mood lifter and feel-good endorphin releaser, dress fun= have fun!

Sooo I've recently become more active on Chictopia and entered the Forever 21 Back to School contest where you're judged on personal style, incorporating F21 merch, and relating to the back-to-school theme for a prize of 250, 150, or 100 dollar F21 giftcard...billions of incredible, lust-to-death worthy pieces dance before my eyes, mmmm..
Being that both my bow and dress were from F21 and could easily be interperted as school girl esque, I knew they'd be the cutest couple for a fun, school girl look! I got my specs at Buffalo Exchange in SF earlier this season and I think they added the perfect amount of chic and geek.
Lastly, if you..ya know, uh..like my look or whatever, then you can like...vote for it and stuff on Chictopia, if you want... I mean, if you think it's cool or whatever, or don't, you know, nothin' personal, it's all g-double o-d good...hahaha
P.S-Yep, I changed my hair again! I've never been a redhead and it makes me feel rather poison ivy-ish and slightly sex kittenish, heehee, maybe redheads have more fun; it's beginning to seem that way.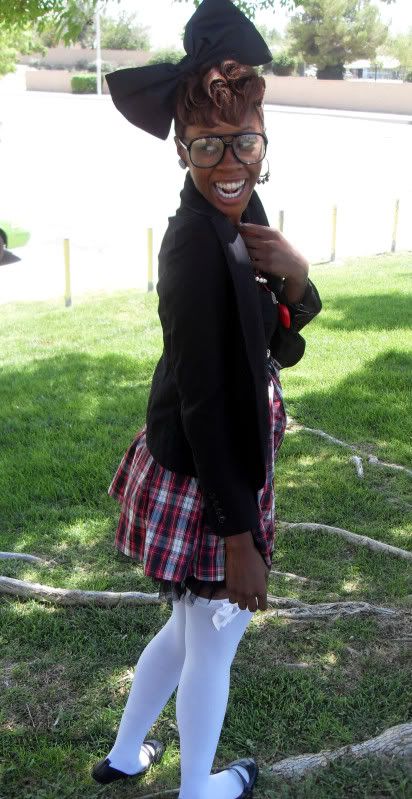 (bow-f21, glasses- buffalo exchange, blazer- jcp, dress- f21, knee highs- hot topic, mary janes- wet seal, hello kitty necklace- hot topic, other accessories- random)