I am whole heartedly sorry for the recent neglecting of my blog; this summer has been non-stop (non stop everything!) and duty always seems to be calling! When the bags under your eyes begin to resemble shopping sprees, you know it's time for a hiatus.
Throughout this busy, bustling and oh-so-bangin' season that I view more of as a long holiday (never too cold weather, 9PM sunsets, fun/flirty/fierce fashion, amazing nightlife) I managed to snap a picture of one of my favorite summer essentials: the one piece/romper/jumpsuit (synonyms?) I looooved this piece as soon as I saw it; even as I eyed it on the mannequin, I immediately envisioned it's light, airy material and cool, breezy cut making for the perfect shopping day piece. Its' bold yet very versatile zebra print and harem style cut of the legs just added fuel to the already flamin' fashion fire! And after I decided to amp the look even more by rockin' neon pink hi-tops, the simplicity gods pleaded with me to go sans accessories; which didn't bother me much considering I forget about accessories half the time anyway.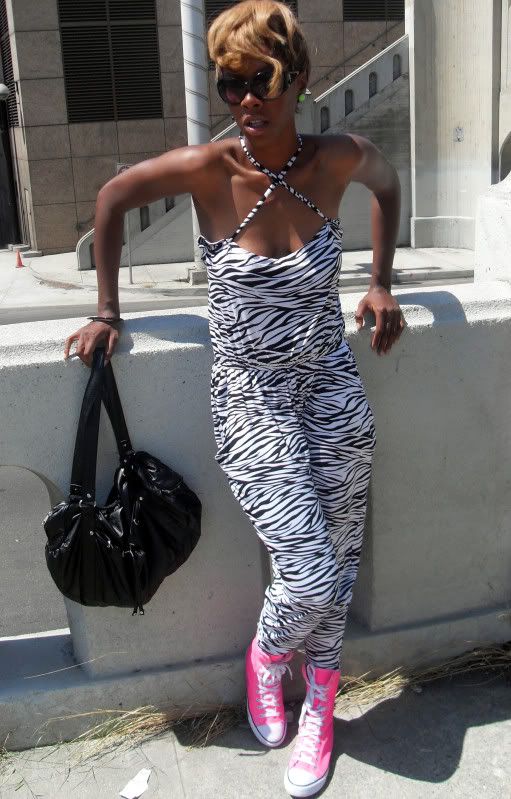 (jumpsuit/hi-tops- f21, bag- h&M, sunnies- vintage)
Speaking of cooooool, if you haven't seen Tim Burton's latest quirky creation, Coraline yet, GO SEE IT- like NOW! Yes, it's a cartoon, a genre I rarely visit (with the occasional exception of Tom and Jerry reruns) but if you know Tim Burton, then you know he brings cartoons to an entire different level! Coraline is amazing in it's unique artistry, bold and rich color hues, other worldly, yet beautiful animation and suuuper zany, freaky, randomly eerie storyline! I was also inspired to create a rag doll after watching this movie. In some ways it reminded me of a video game, I don't want to explain how because I don't want to ruin the movie for you but trust me on this one, Coraline is a must-see, sooo go see it!