What one piece of clothing can you slip on in a single motion that allows you to look as great as you would if you prepped for hours? Lets you look sexy yet playful, conservative yet causual, and cute but oh-so-cool??? JUMPSUITS!!! WHOO HOO...WE ALL JUMP FOR JUMPSUITS!!! Excuse my corniness...that's just how much I love 'em! I've had a mild obsession with jumpsuits for quite some time now, to the point where I've seriously thought about taking one of my dresses and altering it into one peice form. I LOOOVE JUMPSUITS...if I was a piece of clothing (wide legged flares, perhaps?) I would sooo marry the jumpsuit. It must be said that one of my favorite styles (maybe even thee absolute fave) is the cool, effortlessly sexy look and the amazingly amazing jumpsuit epitomizes that. With the current outpour of different styles, detail, and textures; there are so many ways to wear the jumpsuit, def. the go to gear of the season.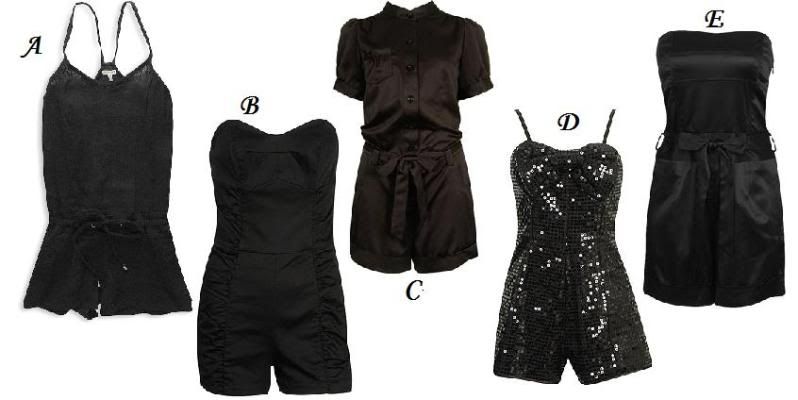 PC: F21

A.
Although I don't wear strappy sandals, they would totally work for this jumpsuit. Due to the piece's light, airy material, you wouldn't want to do a high heel or a platform with this because it'd break the look away from it's casual designation. A strappy, almost gladiator like sandal would compliment this jumpsuit amazingly. Add in scraggly, disshelved, rocker hair, a thin headband, and classic avi's...and you've got perfection, great for a casual evening chill, or as a cover up for an evening pool party.
B. This suit would look amazing with platform heeled boots, those of the shiny, black variety. You know, the ones that stop just below the lknee and have criss crossed laces that do the same? Yes, I'm talking about stripper boots! How freakin' cute would that be? With sheer, black tights, and (with or without, don't really wanna hide the ruched side detail) a red Michael Jackson circa Beat It jacket! Yum! Edgy, tough, yet sooo sexy...just make sure to remove all hair from your shoulders, let your clothes do the talking for the night-this look needs no assist, trust me. And if you happen to be thinking that upon donning this sassy suit that you many be mistaken for Julia Roberts circa Pretty Woman (before Richard Gere saved her life) Don't trip Chocolate chip...the legs of the jumpsuit hit the lower middle thigh so you'll avoid overexposure ;)
C. This jumpsuit screams prep to me; loves it! From the soft, sweet material, to the perfectly pressed collar I'm aching to put on a few strings of pearls (various lengths) and my cutest, most girly like pair of flats (or pumps, round toe please). You could pull your hair up into a bun if you decided to don a bold yet equally ultra feminine hair accessory (bows, bright headbads) or you could always take the look one step further by curling your hair into big round ringlets framing your face.
D. Yes it's scary...and I love the challenge! Go with royal blue four inch pumps. Period. Hair should be pulled back completely, model style, nice and clean. Trust me Dahling, this flashy, little number speaks for itself...allow it and only it, to be the attention grabber this night; the pumps are just there to offset it.
E. Aren't the pockets to die for? And the wide leg looks sooo inviting, like you could sooo wear this shopping, lounging, everywhere! I see wedges, wedges that latch at the ankle, a nuetral color would be best; and if you wanted to- go ahead and add a cropped blazer (stopping right below the waist)...delicioso!