All summer I've been majorly crushing on vintage style. You know what I mean, right? Like 1920's-60's fashion;
the polka dotted pieces, big bows, high waisted trousers, and of course the head scarf look, with cute as a button bangs sitting coyly across the forehead
. I just love the
goody good with a secret
feel of the trend, and how donning a scarf around your head and sporting something as simple as bow flats are suddenly more stunning and sexier than the strappiest of heels.
With era inspired looks it can be pretty easy to go a little overboard, resulting in the assumption that you've arrived via time machine. However, the key to achieving a look that pays homage to your favorite decade while still keeping it 2010 is to bring modern elements to the look without sacrificing its key pieces. Play up the most classic elements of the era's style but use more modern pieces to pull it all together.
I had been slightly salivating over these mid waisted polka dot trousers for at least a month before I even purchased them. The fun, feminine print, combined with super comfortable fabric and the piece's subtle romantic feel had me creating outfits in my head centered around these pants before I had even tried them on. The pink Hello Kitty top I paired these dream pants with is a tee I continuously see in a classic, rather 1960's light, although I'm not sure why because Hello Kitty is rocking a fro, it may be the soft coloring. The little kitten heels were my Prom shoes. During my senior year of high school, when I saw Grease for the first time I instantly fell in love with..everything, and insisted that my prom look be very 50's inspired.
Lastly, although I not only donned polka dots but the classic era inspired head scarf (which works wonders on lazy hair days) with this look; I modernized with a simple Hello Kitty tee and substituted elegant strings of pearls for a shorter, more youthful, pink pair; making it kinda 50's but steering away from Halloween costume.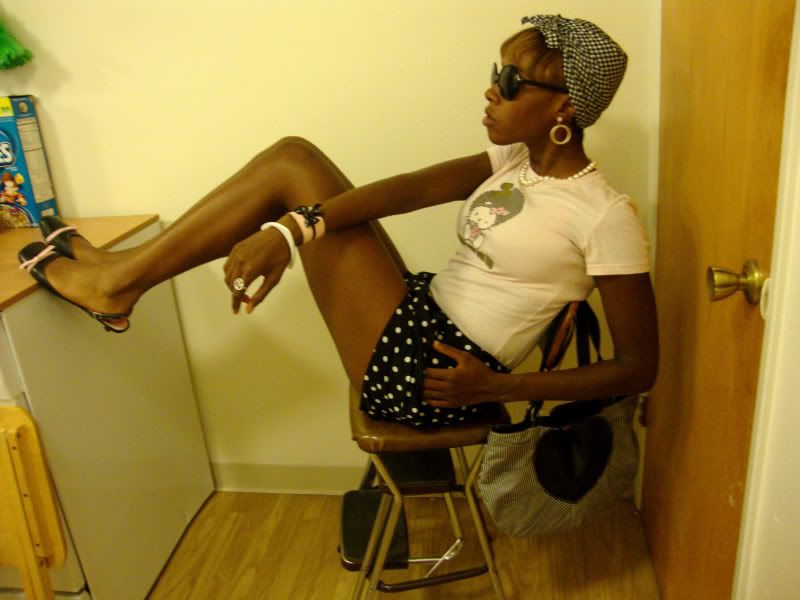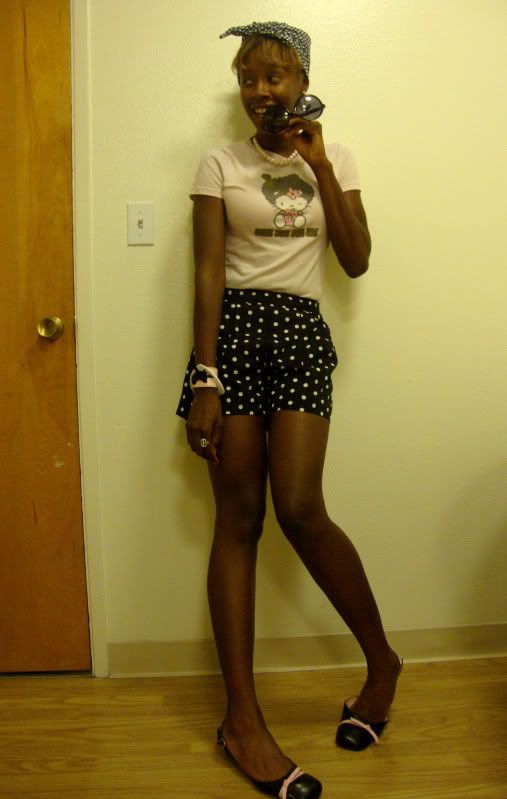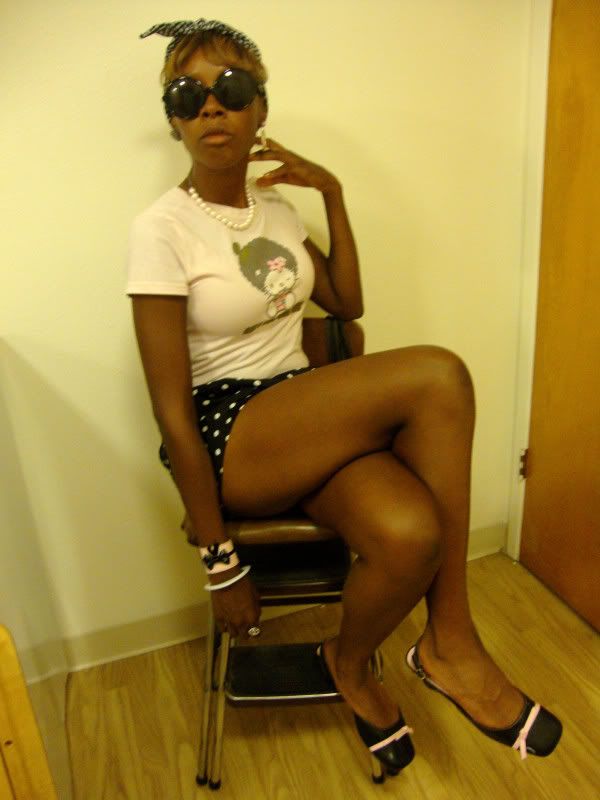 (hk tee sears, pink pearls claires, bow cuff tillys, trousers & sunnies f21, kitten heels sheik, scarf & earrings dollar store, bag anchor blue)