Last summer does not seem so long ago, I can still rememeber the smells and sites; and due to the indecisive weather of the 661, I find myself hit with its deja vu surprisingly early this year, considering it is still April and all (at least for a few more days, I'm trying to hold onto it).
I must say that short hair was one of the smartest decisions I made last year. The effortless sex appeal, intrigue, and confidence it exuded was unmatchable. At the risk of sounding uncouth, I love, love, freakin' loved it and I can't wait for another round of cropped cuts this coming season.
On the subject of clothing, the denim in these photos are James Jeans I scored while interning for the company this time last year actually. As you know, I'm in no way a fan of jeans (due to their inability to ever fit both my hips and waist cohesively) but these denims were a pleasant surprise, as they complemented my gams with perfection and halted right at the ankle, adding even more flair aside from their cool, classic wash, and easy fit.
In the realm of tops, don't you love this super cool hipster, tie dye tank I copped on Haight St. in SF last summer? The fabric is a soft, intricately netted mesh that provides for a breezy, fun, and super light summer piece. I also love how the print repeats on the back because it always sucks a little when a graphic top is plain on the backside (forcing me to rock it backward sometime).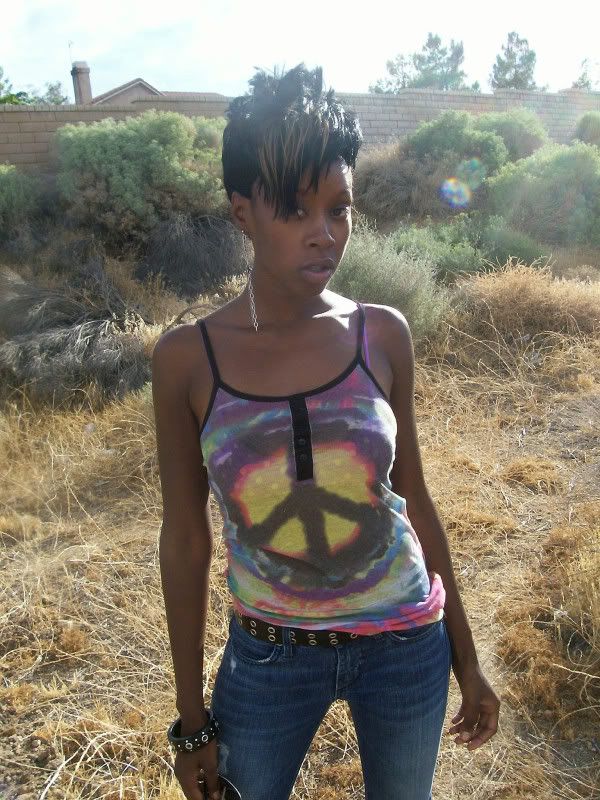 I refer to this dress as my punk princess piece because that's what the section I got it from at Forever 21 was called. I love this dress because although it's dramatic, the color palette is so chill that it makes for an easy I'm just gonna get dressed piece. So far I've worn it with fishnets and Chuck Taylors, as well as with my enourmous Hello Kitty bow for Halloween when I was a Japanese school girl; it is so surprisingly versatile.