As of a few months ago, Forever 21 officially bought out Mervyn's department store due to the recession and economical decline; as dissapointed as your grandmother must've been, their loss was definitely our gain! I hope everyone has been lucky enough to witness firsthand, the gigantic amazement that is now Forever 21: the department store! If you've ever been to Mervyn's to buy tube socks for your boyfriend or discretely purchase a new top (sshh), then you're aware of how large that store was; for that entire entity to be filled with nothing but the latest versatile, essential, amazing, and easy-on-the-pocket finds is basically the equivalient of heaven in Earth form, no?

(Kinda?) Fun Fact: Forever 21 actually has official names for each seperate department in their new home to generalize the style of clothing each section entails; these concepts are based upon Elle magazine's vision of current, popular trends among young women. The concepts change every six weeks, and as big as the new Forever 21 store is, it can be inexplicably frustrating when one finally gets the concept and product placement of all the sections down pact, only to find them completely different the next day.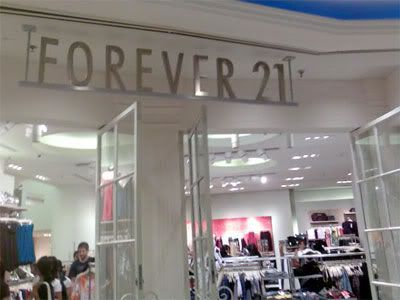 Current Concepts:
Punk Princess (personal favorite): Exactly what it sounds like. A mix of girly glamour with a punk rock edge. Tulle lined skirts paired with studded corsets, plaid with distressed detailing, oversized bows and bubble hemmed coreset dresses...if I was a piece of clothing I would definitely live there!
Boheiman Rhapsody: Hippie meets gypsy. Flowy, sheer, tops and skirts, distressed flares, nuetral floral printed tunics, many vintage prints, prarie skirts, tie dyed maxi dresses...think Nicole Richie back in her hey-day/Kate Hudson via Almost Famous.
Out of Africa: Before the concepts were changed, this section was referred to as safari because it has many tribal detailed halters, flowy tops, and animal printed ruffles. Brown, beige, burnt orange, and sepia flood this section. One of it's best features are the rompers, ranging in color, detail, and print.
Petal Pusher: For the pretty, feminine, sweetheart in all of us. This section entails collared blouses, many soft florals, frills, and lace. Pink and cream dominate this area, and the ultra feminine skirts are sooo sickingly sweet, the urge to regress into your childhood days and throw an elegant tea party for your teddy bears is extremely hard to resist.
Varsity Blues: Yep, it's prep! Sweater vests galore, cozy trousers, and poor boy caps are just some of the fun, team spirited pieces one can find in this section. There are also super comfy and cute boyfriend cardigans and collared button downs that beckon you to purchase one in every color.
Easy Rider: Biker chick? Every weekend Forever 21 encourages its employees to dress in a certain concept based theme in order to exemplify the different styles the store has. The concept's idea is basically grunge with a Harley Davidson edge (body con dresses, oversized plaid, studded vests), it seems that some people had trouble understanding the look because in the break room where the current weekend's theme is posted, the flyer simpy read "Easy Rider: Make it Work."

In addition, the store's employees are separated into different quads, which ever quad rocks the weekend's theme the best wins a pizza party. Since I'm a visual merchandiser and don't work in a designated quad I am routinely excluded from the contest. Nevertheless, I still enjoy dressing in tie with the theme; am I the only one who loves themes? It's sooo fun, right? Kinda feels like a costume party...a little, haha.
And now that you know much more information about Forever 21 than one ever should, surprise an associate the next time you're there by referring to a section by name; maybe you'll get a discount!