As I sit here with a run slowly creeping up my sheer black pantyhose (clear polish anyone???) I am having a mental war with myself on whether or not today was a good day:
Let's see...I arrived at work half an hour late due to a serious fashion crisis involving an attempt at a zebra print top with hot pink leg warmers in lieu of a fatally critical lack of inspiration- I swear I tried everything...from journals, to blogs, to sites, to mags- NOTHING. (Am I the only one who ocassionally suffers from these heart wrenching spells of fashionlessness???) However, after the last deciding minute of whether or not I'd make it to work on time had ticked, only then was I able to pull together an outfit that looked remarkably put together considering my anxiety and frantic run arounds, aided by two, unusually strong black coffees.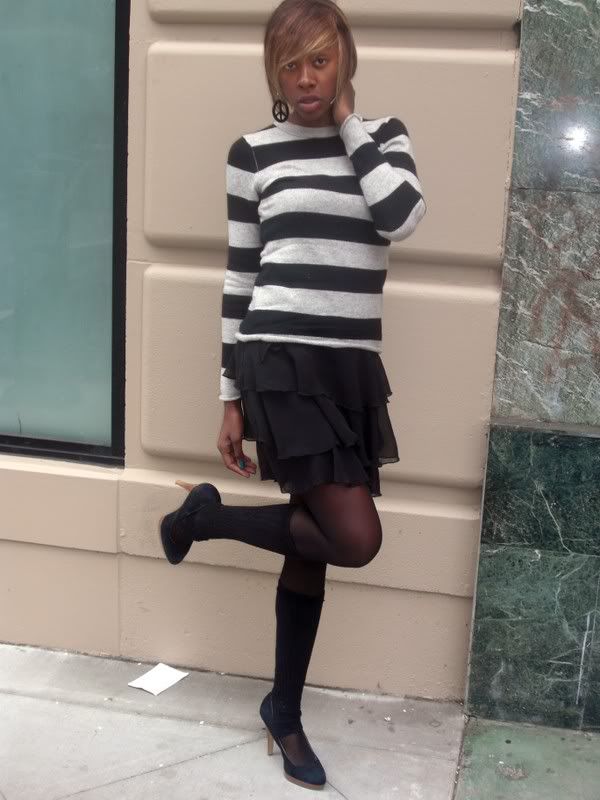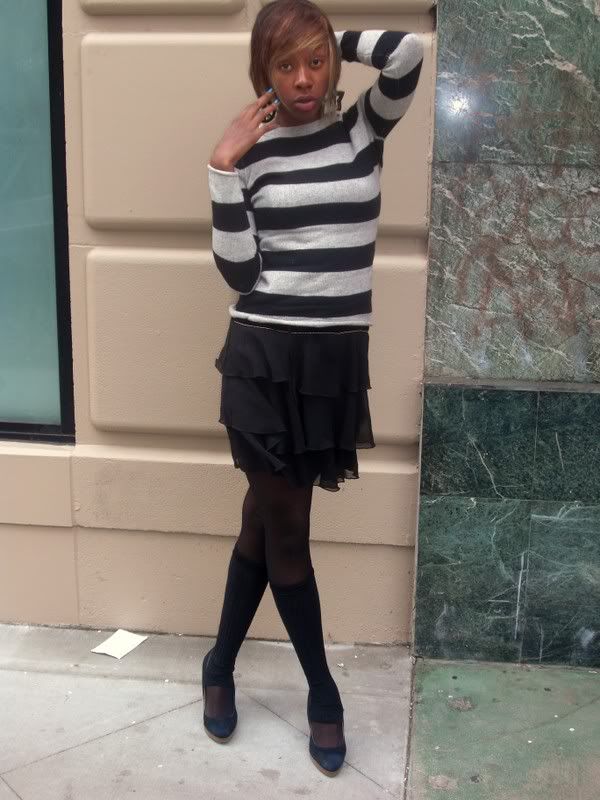 (sweater-bitten by sjp, dress-wet seal, hose-target, leg warmers-downtown, heels-downtown)
I felt like Carrie Bradshaw a la SATC opening credits (possibly in part of wearing a sweater from her line maybe???)...I think it was the understated ruffles in my dress, I'd much prefer an actual tutu though...I've been dying for one since sometime last year; I love tulle!!! As I walked the streets of Downtown LA, the image of Miss Bradshaw making her way amongst the crowded streets looking ridiculously, effortlessly amazing
kept re-running through my head-and when I left work this evening and was greeted with pouring rain I felt even more like Carrie when she was soaked with sewer water by the city bus. After walking three blocks with my black cotton scarf wrapped around my head in vintage convertible fashion (my fruitless attempt at staying dry) I scored a great umbrella for five bucks!!! And then-just when things were beginning to look up, the train was stalled for over a half hour on my way home, because of a landslide, causing me to miss my Turbo Kickboxing class...yeesh, you have no idea just how bad I wanted/needed to kick something indeed...